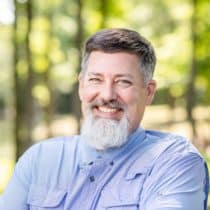 Bill is the newest team member of Cross Creek Realty. Born and raised in the Upstate of South Carolina, Bill Hueble earned a Bachelor of Science degree with majors in Business Administration, Accounting, and History from Presbyterian College as well as a Masters of Accountancy degree from the University of Georgia.
After buying and selling several recreational and timber properties for his personal use, Bill felt a calling to help others pursue their dreams of land ownership.   He has worked as a land broker for the last 8  years extensively in 13 upstate counties representing both sellers and buyers of land.
Bill has also spent a number of years managing land for wildlife purposes.  Being an enthusiastic sportsman his entire life, he especially enjoys introducing others to the great outdoors. Bill is active in his church; the joys of his life are his wonderful wife and three children.
In 1982, Bill was granted the award for Most Positive Attitude in Ms. Sarah Bates' seventh grade class at Greenville Middle School.
---
Contact Details
Office : 864-517-3621
Mobile : 864-419-9365
---
Send a Message